Serve & Protect – Lafayette's New Public Safety Center Opens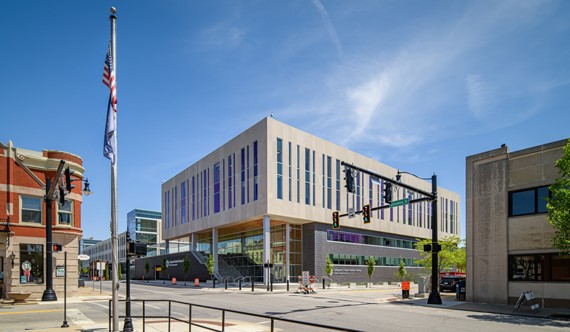 Corporate, Architecture + Interiors, Engineering + Infrastructure
Oct 06, 2023
From Building Indiana Magazine
Construction recently completed on a major upgrade to the city of Lafayette's public safety infrastructure. The $51 million project took a little over two years to complete and established a new 70,000-square-foot Public Safety Center building and a large parking garage. Many aspects of the center will equip the department with the latest amenities in community policing.
What's Inside?
The new Public Safety Center incorporates numerous state-of-the-art community and law enforcement features into its modern design. City officials worked with a team of architectural and engineering firms to create a police facility and gathering space that can foster better relationships with the public.
American Structurepoint was the lead architectural and engineering firm. Other partnering design firms included Architects Design Group (ADG), which specializes in public safety, and MKSK, which designed the public plaza and greenspace. A duo of construction management firms, Kettlehut Construction and F.A. Wilhelm Construction, brought the building to life.
Inside the building, the center is filled with lots of forward-thinking features for law enforcement. One of the core components is the Analysis and Response Center (ARC), which is almost like something one would see in a movie. It's the hub for the Lafayette Police Department's (LPD) special operations division and criminal intelligence. This space provides real-time access to city operated security cameras and police body cams, giving police personnel a way to monitor criminal activity and all kinds of other events as they happen. Also, for the criminology side of law enforcement, officers now have access to a new enhanced evidence processing area with dedicated storage.
Security elements include bullet-resistant glazing in key areas, a safe room where victims of crime can seek immediate assistance from police officers, and a victim's advocate space. But although the center is understandably a high-security building, it's also designed to be welcoming for visitors.
For example, the second floor of the center has a community room that can accommodate up to 150 guests for special gatherings. This room opens up to an outdoor plaza that has a pergola and seating area where live entertainment or movie screenings can be held. The main lobby was designed to be large and inviting, with a "monumental" staircase that connects various areas of the structure. And there is also a dedicated media room where members of the press can gather for briefings.
Additionally, the Public Safety Center has a few other areas not typically found in law enforcement buildings. One example is the 900-square-foot micro-retail site where small businesses and entrepreneurs can showcase their services. There is also a solar-powered array and other energy efficient elements to give the center more sustainable options.
Room to Grow
One of the best things about the new public safety center is that it provides extra room for the department to grow. In the former police station, which is located not far from the new building, space was tight. Reportedly, only a handful of officers could fit together in the small break room and some even had to double up in offices together.
Today, the new building has so much room there aren't enough officers to fill all the available space. It's more than double the size of the former building. That's a good thing, city officials have said, because it provides room for growth.
Lafayette Mayor Tony Roswarski said, "Our new state-of-the-art facility will offer the latest in technology and innovative safety programs to meet the growing needs of our community and assist in the recruitment and retention of top talent for the Lafayette Police Department."
"Every day our law enforcement officers run towards the danger as front-line workers and first responders to ensure the safety of our community. Lafayette's new Public Safety Center is a tribute to these outstanding men and women who face these difficult challenges day in and day out," Roswarski added.
Next Gen in Safety
With all the new and unique features packed into the new Lafayette Public Safety Center, the city is going to have a fully equipped law enforcement facility that will serve and protect generations to come. Beyond policing, the center brings together numerous bright points for the community and enhances interactions with the public. All of which will add up to a safer, more prosperous Lafayette region.