Noblesville Wastewater Treatment Upgrades Cited In National Engineering Competition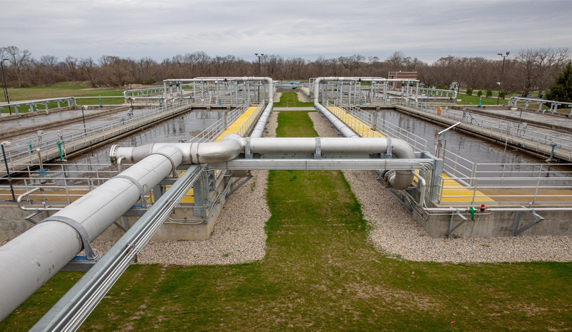 Corporate, Engineering + Infrastructure
Mar 14, 2020
American Structurepoint has earned a National Recognition Award for exemplary engineering achievement in the American Council of Engineering Companies' (ACEC) 53rd annual Engineering Excellence Awards (EEA) for designing new phosphorous removal and aeration systems at the Noblesville wastewater treatment plant.
To help Noblesville's treatment plant meet increasingly stringent effluent discharge methods, American Structurepoint integrated an innovative biological phosphorus removal system (Bio-P), which uses natural processes rather than chemicals. One of the first such applications in Indiana, Bio-P combines with aeration process modifications to achieve remarkably cleaner water at far less cost. The project also replaced centrifugal blowers with energy-efficient turbo blowers and integrated an above-ground stainless steel piping system.
Based on the first eight months of operation, the reduction in chemical usage and power will save the city approximately $800,000 a year, while also providing cleaner water for Noblesville and downstream communities. The project also provides a valuable model other Indiana communities can use in addressing their own water quality needs.
The project is eligible for additional honors as part of a record 203 entries this year representing engineering excellence from throughout the nation and the world. Judging for the awards program took place in February and was conducted by a national 35-member panel of built environment leaders, along with experts from government, the media and academia. Award criteria focused on uniqueness and originality, technical innovation, social and economic value, and generating excitement for the engineering profession.
Recognition of all award winners including top winners – 20 Honor Awards, 16 Grand Awards and the prestigious "Grand Conceptor Award" for the year's most outstanding overall engineering achievement – will take place at the annual EEA Dinner and Gala, a black-tie event to be held Tuesday, April 28 at the Marriott Wardman Park Hotel in Washington, D.C.
Founded in 1966, American Structurepoint offers comprehensive consulting and design services. Sims-Durkin Associates Engineering Co. of Indianapolis also contributed to the project.