Kaitlyn Currie, PE, Named ASCE Younger Member Engineer of the Year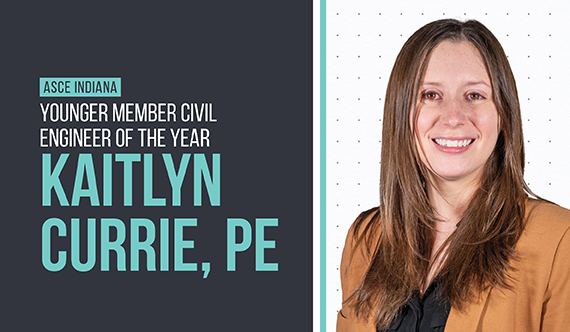 Corporate, Engineering + Infrastructure
Apr 29, 2022
Congratulations to Utility Infrastructure Team Leader Kaitlyn Currie, PE, on being named the American Society of Civil Engineers (ASCE)Indiana Section 2022 Younger Member Engineer of the Year. The annual award is given to an ASCE member for contributions to the public welfare and advancement of the civil engineering profession.
She has been involved with and led many of our major projects to improve the quality of life in our communities, including the $1.6 billion IU Health downtown Indianapolis campus. The project is revitalizing 44 acres in downtown Indianapolis and includes significant utility expansion and relocation. Kaitlyn was a team member completing utility and stormwater master planning for the campus. As project manager, she was responsible for the $25 million enabling works utility design-build package charged with relocating and upgrading eight underground utilities.
Kaitlyn has contributed to the advancement of the civil engineering profession through her development of creative, safe, and cost-effective solutions to many stormwater, drinking water, and wastewater infrastructure improvement projects throughout Indiana.
She is also dedicated to recruiting and engaging the next wave of engineers into the profession, having taken an active role in the Indiana Water Environment Association Young Professionals Committee. The committee facilitates connections with students and professionals younger than 35 to pursue careers in the water industry.