American Structurepoint Provides Design Services For Lafayette Public Safety Building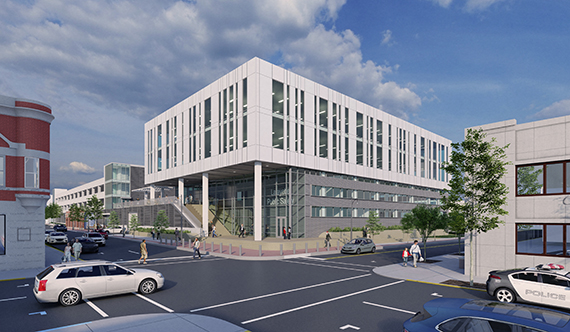 Corporate, Architecture + Interiors
May 06, 2021
American Structurepoint proudly joined with the City of Lafayette and construction manager Kettelhut Construction/FA Wilhelm Construction on May 4 for the groundbreaking of the new Public Safety Building and Public Parking Garage in downtown Lafayette. American Structurepoint is providing architectural design, civil engineering, and structural engineering services for the project estimated to cost $45 million.
Located on the south side of Columbia Street between Sixth and Seventh streets, the new Lafayette Police Department headquarters will better meet community needs. The 70,000-sft, 4-story public safety complex is a first of its kind specifically designed for public safety in the Lafayette Police Department's 154-year history.
"We envision creating a community gathering space where law enforcement officials, police officers, and community members come together to build better relationships." - Dan McCloskey, senior project architect
Police department personnel will have an improved working environment and increased space for police and civilian personnel, dispatchers, evidence storage, and innovative public safety programs promoting better engagement between the police and the public. The facility also features cutting-edge technology, including a real-time crime center that brings in multiple video feeds from City cameras and police body cams as well as news and weather information to evaluate in the event of a major incident.
The project also incorporates a focus on public spaces and ample access to natural daylight. A 2-story glass atrium opens directly to the public, and an outdoor terrace connects the street level with a rooftop landscaped plaza. The landscaped plaza is directly adjacent to a community room with seating for 268 people. Together, these spaces can host a variety of meetings, events, and public gatherings. Also included is a new connecting parking garage with approximately 468 spaces for City staff and the public.
"American Structurepoint is honored to collaborate with Mayor Tony Roswarski and the city to design this state-of- the-art facility," said Senior Project Architect Dan McCloskey. "We envision a community gathering space where law enforcement officials, police officers, and community members come together to build better relationships."
Lafayette Public Safety Building and Parking Garage Fast Facts
•Lead Architect: American Structurepoint
•Design Team: Architects Design Group, MKSK, Applied Engineering, TLC Engineering, THA Associates
•Owner's Rep: CORE Planning Strategies
•Construction Managers: Kettelhut Construction, Inc. + FA Wilhelm Construction
•Ground Breaking: May 4, 2021
•Square Footage: 70,000 sft
•Expected Completion Date: First quarter 2023
About American Structurepoint
American Structurepoint began business in Indianapolis in 1966 and has since grown into a respected multidiscipline consulting firm recognized for its experienced professionals, quality work and customer service. American Structurepoint has been named the fifth-largest Indianapolis architecture firm by Architectural Record magazine and among the Top 300 Architectural Firms in the nation. Our architecture practice offers a comprehensive set of services including programming and concept design, architecture, interior design, visualization, animation and graphic design. For more information, visit www.structurepoint.com/architecture.