American Structurepoint Podcast Celebrates National Surveyors Week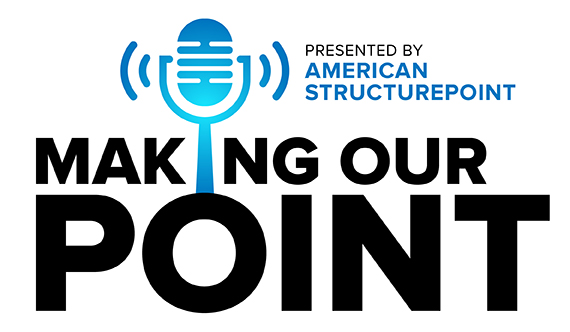 Corporate, Engineering + Infrastructure
Mar 23, 2023
In celebration of National Surveyors Week, the latest episode of American Structurepoint's Making Our Point podcast explores land surveying as a career choice. Land surveying is an essential component of any construction, transportation, or development project to provide accurate data so that a project can begin.
Land surveyors make precise measurements to determine property boundaries and land features. Land surveyors play an integral role in the design and development of almost every transportation, civil engineering, and utility infrastructure project American Structurepoint takes on. Podcast listeners will hear the leaders of our Indiana and Ohio survey teams, Jeff Douglass and Brian Bingham, share examples of projects land surveyors often tackle. They also provide excellent insights for people considering a land surveying career, such as qualifications needed, what to expect on the job, career paths, and the difference between fieldwork and office work for surveyors. Executive Vice President and Partner Steve Davidson hosts the podcast.
To learn more about land surveying and to find out if this career is for you, listen to the podcast episode entitled "What You Should Know About Surveying." You can find the podcast at https://structurepoint.buzzsprout.com/, under the "Company" tab on structurepoint.com, or on any of your favorite podcast streaming platforms such as Apple Podcasts, Spotify, Google Podcasts, Amazon Music, Stitcher, and more. And if you are interested in joining the American Structurepoint team, please visit the careers section of our website!
About American Structurepoint
American Structurepoint, headquartered in Indianapolis, Indiana, is a national architecture and engineering consulting firm. We define the standard of excellence for people across the world who want help building and bettering their community. American Structurepoint professionals work in 16 design centers in Florida, Illinois, Indiana, Kentucky, Ohio, Tennessee, and Texas. Engineering News-Record (ENR) has consistently listed the company as a Top 200 Design Firm. The firm achieved its highest ranking ever on the 2022 list, rising to No. 134. After more than 56 years of steady growth, American Structurepoint offers complete consulting and comprehensive design services to improve the quality of life for our people and our communities. For more information, visit www.structurepoint.com.