American Structurepoint Celebrates Loeb Stadium Dedication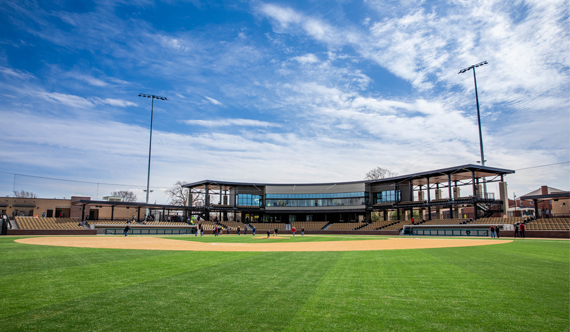 Corporate, Architecture + Interiors
Apr 01, 2021
American Structurepoint proudly joins with the City of Lafayette marking the dedication and opening of the new, multi-use Loeb Stadium. American Structurepoint provided architectural services for the $20 million facility that replaced the historic Loeb Stadium built in 1940. The new stadium was dedicated Wednesday, March 31, as part of its first-ever event – a high school baseball game between Lafayette Jefferson High School and Lafayette Central Catholic High School.
American Structurepoint first worked with the City of Lafayette to update and renovate the original Loeb Stadium. The City then hired American Structurepoint to design a new stadium in 2018. The original stadium was demolished in 2019 and a groundbreaking occurred soon thereafter to build a state-of-the-art multipurpose stadium upon the same site in Columbian Park in the heart of Lafayette.
The municipally owned stadium is the home of the Prospect League's Lafayette Aviators and the Lafayette Jefferson High School baseball teams. The city envisions using the stadium to host multiple events year-round such as soccer and football games, concerts, and more.
The design takes its inspiration from the stadium's original 1940s-era Art Deco architecture by using architectural precast concrete colonnade, traditional brick facades, and exposed structural steel. Loeb offers seating for 2,600 guests, including 1,910 chair-backed seats in the lower bowl. Additional seats are available via three suites, and lawn seating is available along the third baseline and behind the left field wall.
Our design rotated the existing field 180 degrees to a preferred northeast orientation, moving home plate to where center field was located in the original stadium. It also lowered the playing field by 7 feet to provide a clear line of sight to the entire field of play no matter where a spectator sits. Synthetic turf maximizes the field's use and limits maintenance due to increased use for multiple events.
The upper level features three enclosed suites, three open-air party decks with associated fixed seating, stadium control, radio booths and a media area. The concourse level includes office space for the Lafayette Parks Department, the Aviators and a merchandise/gift shop area. Two concession areas also are available in the stadium.
"American Structurepoint is honored to have designed this magnificent facility for the City of Lafayette," said Dan McCloskey, Loeb Stadium senior project architect. "The stadium will provide many hours of recreation and entertainment to Lafayette residents and visitors for generations to come."
Loeb Stadium Fast Facts
•Architect: American Structurepoint
•General Contractor: Kettelhut Construction
•Ground Breaking: August 27, 2019
•Seating Capacity: 2,600
•Home To: Lafayette Aviators and Lafayette Jefferson High School baseball teams
•First Lafayette Aviators Game: June 1, Terre Haute Rex versus Lafayette, 7 p.m.
About American Structurepoint
American Structurepoint began business in Indianapolis in 1966 and has since grown into a respected multidiscipline consulting firm recognized for its experienced professionals, quality work and customer service. American Structurepoint has been named the fifth-largest Indianapolis architecture firm by Architectural Record magazine and among the Top 300 Architectural Firms in the nation. In 2020, the Indianapolis Business Journal named American Structurepoint the fifth-largest architecture firm in the region. Our architecture practice offers a comprehensive set of services including programming and concept design, architecture, interior design, visualization, animation and graphic design. Our deep bench of expert professionals and market-based leaders offer clients a collaborative design approach resulting in cost-effective and innovative design solutions. For more information, visit www.structurepoint.com/architecture.