Purdue University and American Structurepoint Receive National Engineering Award for Newman Road Underpass Project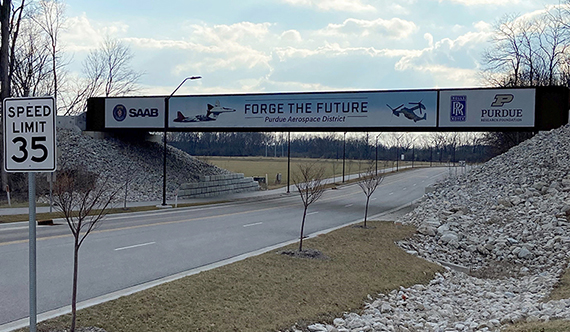 Corporate, Engineering + Infrastructure
Mar 10, 2022
Purdue University and American Structurepoint, an architectural/engineering consulting firm, have earned a national award for exceptional engineering excellence for the Newman Road Underpass project in West Lafayette. The National Recognition Award is from the American Council of Engineering Companies' (ACEC) 2022 Engineering Excellence Awards competition. Purdue University and American Structurepoint are being recognized for the project team's design solution that enhanced access and public safety along the Newman Road corridor, which includes a new railroad bridge underpass.
Purdue University and American Structurepoint collaborated with the City of West Lafayette, the Indiana Department of Transportation, and the Purdue Research Foundation (PRF) on the $12.5 million project, completed in November 2020. The project improved access to the growing Discovery Park District where high-tech aerospace and defense research and development occurs. The project also enhanced public safety and provided additional opportunity for job growth and economic development in the district.
"We are a proud delivery partner on this nationally-recognized project," said Jay Wasson, associate vice president of Purdue University Physical Facilities. "With the nearby expansion of national security and defense research facilities, this transformational Newman Road corridor project provides for safe and reliable access, supporting continued growth and economic development opportunities for the greater Purdue community."
"American Structurepoint is honored to share this recognition with Purdue," said American Structurepoint President Rick Conner. "The Newman Road project is another example of how American Structurepoint is committed to improving the quality of life for the communities we serve."
"At American Structurepoint, we are especially grateful for the opportunity to showcase our innovative engineering solutions and for the opportunity to engage with Purdue students and staff to make the Discovery Park District a safer, more accessible area where aerospace research and development can continue to grow and thrive," Conner added.
The project replaced a 1-lane, 100-year-old railroad underpass on Newman Road with a modern bridge structure. American Structurepoint engineers used an innovative bridge-slide technique to erect and install the new bridge structure. The railroad was temporarily closed for 106 hours while the bridge slide occurred. The project's design completely reconstructed and widened Newman Road from SR 26 to Benson Road. The SR 26 and Newman Road intersection was converted to a dual-lane roundabout to improve traffic flow, and the project was complete with a new lighted, multi-use path for pedestrians and bicyclists, which improved the quality of life for West Lafayette residents.
The project received an honor award from the ACEC Indiana chapter in December 2021.
About Purdue University
Purdue University is a top public research institution developing practical solutions to today's toughest challenges. Ranked in each of the last four years as one of the 10 Most Innovative universities in the United States by U.S. News & World Report, Purdue delivers world-changing research and out-of-this-world discovery. Committed to hands-on and online, real-world learning, Purdue offers a transformative education to all. Committed to affordability and accessibility, Purdue has frozen tuition and most fees at 2012-13 levels, enabling more students than ever to graduate debt-free. See how Purdue never stops in the persistent pursuit of the next giant leap at https://stories.purdue.edu.
About American Structurepoint
American Structurepoint began business in Indianapolis in 1966 and has since grown into a respected multidiscipline consulting firm recognized for its experienced professionals, quality work and customer service. Engineering News-Record (ENR) has consistently listed the company as a Top 200 Design firm. After 55 years of steady growth and with a staff of over 550 experienced professionals, American Structurepoint offers complete consulting and comprehensive design services.
About ACEC
The American Council of Engineering Companies (ACEC) is the business association of America's engineering industry, representing more than 5,200 independent engineering firms and more than 600,000 professionals throughout the United States engaged in the development of America's transportation, water and energy infrastructure, along with environmental, industrial and other public and private facilities. Founded in 1906 and headquartered in Washington, D.C., ACEC is a national federation of 52 state and regional organizations.