Newman Road Project Receives Indiana Engineering Achievement Award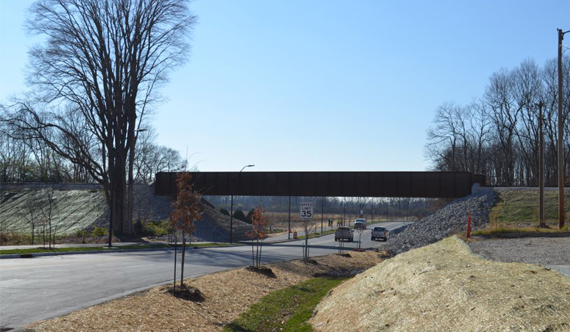 Corporate, Engineering + Infrastructure
Jun 30, 2021
American Structurepoint is honored to receive the 2021 Indiana Engineering Achievement Award from the Indiana Society of Professional Engineers (NSPE-IN) for the Newman Road Underpass project in West Lafayette, Indiana. NSPE-IN gives this award annually to the most outstanding project in Indiana most notable for its quality of design, functionality, energy efficiency, and/or improvement in the environment.
American Structurepoint collaborated with Purdue University, the City of West Lafayette, the Indiana Department of Transportation, and the Purdue Research Foundation (PRF) to deliver the $12.5 million project. The project enhanced public safety, improved access to the growing Discovery Park District Aerospace where high-tech aeronautics research and development occurs, and provided additional opportunity for job growth and economic development.
Newman Road is a main entry point to the Discovery Park District Aerospace developed by the PRF. The rustic 100-year-old Newman Road underpass and the rural qualities of Newman Road served as major roadblocks for continued growth and economic development in the district. The existing 100-year-old, one-lane railroad underpass needed to be replaced so that larger commercial vehicles could reach entities located in the aerospace district.
The stone arch bridge structure was demolished, and the design and construction teams used an accelerated bridge construction bridge-slide technique to erect and install the new bridge structure. Newman Road from SR 26 to Benson Road was completely reconstructed and widened, allowing for two-way traffic at the underpass. The existing Newman Road was lowered to allow larger, heavier trucks to travel much more safely under the railroad bridge. The intersection of SR 26 and Newman Road was converted to a dual-lane roadway, and the addition of a lighted multi-use path for pedestrians and bicyclists completed the project.
Today, multimodal traffic now moves freely and safely through the underpass that meets federal design standards. Safer and easier access is provided for passenger, commercial, and emergency vehicles. Economic development can continue in the district, which will benefit West Lafayette and the surrounding region for years to come.
About American Structurepoint
American Structurepoint began business in Indianapolis in 1966 and has since grown into a respected multidiscipline consulting firm recognized for its experienced professionals, quality work and customer service. Engineering News-Record (ENR) has consistently listed the company as a Top 500 Design firm, and in 2018, American Structurepoint was named Design Firm of the Year by ENR Midwest. After 54 years of steady growth and with a staff of over 500 experienced professionals, American Structurepoint offers complete consulting and comprehensive design services.