Indiana National Guard Breaks Ground on Readiness Center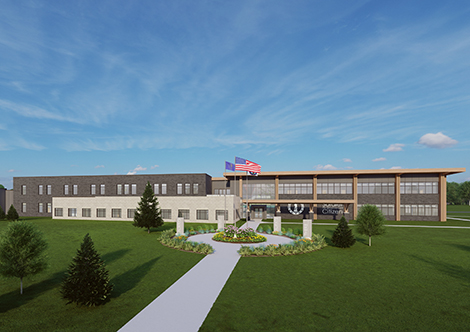 Corporate, Architecture + Interiors, Engineering + Infrastructure
Oct 20, 2023
From The Indiana Capital Chronicle
The Indiana National Guard broke ground on its newest readiness center in Atlanta on Thursday, October 19.
American Structurepoint provided architecture, interior design, landscape architecture, civil engineering, land surveying, structural engineering, utility infrastructure, and environmental services on the project.
During the ceremony, Gov. Eric Holcomb and Maj. Gen. Dale Lyles, Indiana's adjutant general, spoke and broke ground on the new facility.
"In May, I proudly signed a budget including $8 million in funding for the Indiana National Guard's new Hamilton County Readiness Center," Holcomb said in a news release. "Indiana will continue to invest in supporting the men and women who answer a call to serve at home and abroad, respond to state emergencies and secure our peace and freedoms."
The facility, scheduled to open in 2026, will include about 66,000 square feet of space on an existing, state-owned 55-acre plot of land in Hamilton County.
The center will house the 38th Sustainment Brigade headquarters company, its detachment and special troops battalion, the 338th Signal Company and approximately 300 Hoosier Guardsmen. The new facility will meet current code, the American with Disabilities Act and Anti-terrorism Force Protection requirements.