Glasswater Creek of Plainfield Receives National Recognition For Design Excellence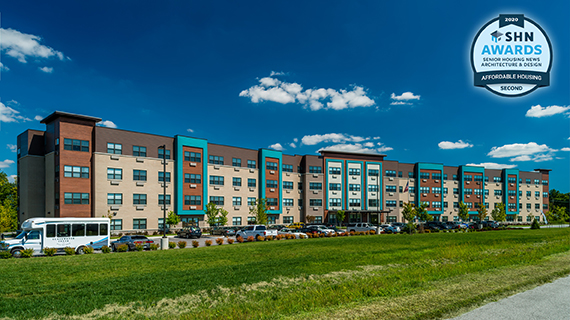 Corporate, Architecture + Interiors, Engineering + Infrastructure
Dec 28, 2020
Designed by American Structurepoint, Glasswater Creek of Plainfield received a second-place award in the affordable housing category of the seventh annual Senior Housing News Architecture and Design Awards. The publication recognized the team for excellence, innovation, and cutting-edge design in senior living.
American Structurepoint provided architecture, interior design, and structural engineering services for the 131-unit facility that opened in November 2019. The team worked with facility owner, Community Reinvestment Foundation (CRF), to deliver on its mission to "provide access to quality, affordable housing for those who need it." The facility is managed by Gardant Management Solutions, one of the nation's largest senior living providers managing 56 senior living, assisted living, and memory care communities across the country.
"The hospitality model (at Glasswater Creek) empowers residents to maintain their independence – allowing them to make their own choices on their own schedules." - Rob Bray, senior living sector leader
A primary goal for the team was to design a community that appeals to today's active seniors with hotel-like amenities, such as a wellness/fitness center, theater room, internet café/bistro, community room, outdoor courtyard, and a private dining room. "The hospitality model empowers residents to maintain their independence – allowing them to make their own choices on their own schedules," said Rob Bray, senior living sector leader at American Structurepoint. Amenity spaces also add to the day-to-day buzz of a community creating a truly unique sense of place. To encourage informal interaction among residents, these spaces are centrally located near primary circulation areas across four floors and are illuminated with natural daylight and views to the outdoors.
Together, these strategies provide affordable and elegant design solutions that provide an opportunity to age in place in Hendricks County.
About American Structurepoint

American Structurepoint began business in Indianapolis in 1966 and has since grown into a respected multidiscipline consulting firm recognized for its experienced professionals, quality work and customer service. American Structurepoint has been named the fifth-largest Indianapolis architecture firm by Architectural Record magazine and among the Top 300 Architectural Firms in the nation. In 2020, the Indianapolis Business Journal named American Structurepoint the fifth-largest architecture firm in the region. American Structurepoint's architects have delivered distinctive and sustainable structures for clients across a wide spectrum of building types and market sectors. Our architecture practice offers a comprehensive set of services including programming and concept design, architecture, interior design, visualization, animation and graphic design. Our deep bench of expert professionals and market-based leaders offer clients a collaborative design approach resulting in cost-effective and innovative design solutions. For more information, visit www.structurepoint.com/architecture.