American Structurepoint to Serve As Advisor for 16 Tech Signature Bridge Project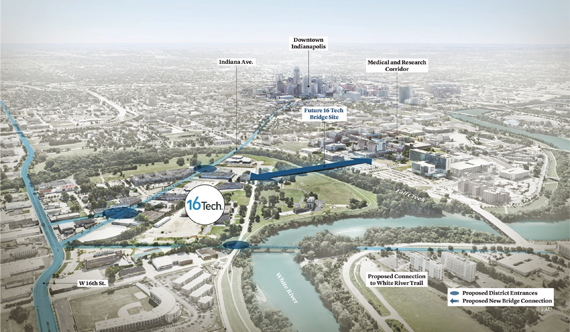 Corporate, Engineering + Infrastructure
Dec 09, 2020
American Structurepoint is proud to support 16 Tech Community Corporation as advisors through the design and construction of a signature bridge that will connect the 16 Tech Innovation District to Indianapolis' nationally ranked research corridor, including medical and education campuses.
16 Tech Community Corporation announced today the selection of a design team for the $14.5 million bridge that will span Fall Creek from 10th Street and Riley Hospital Drive. Germany-based schlaich bergermann will lead the team in collaboration with Practice for Architecture and Urbanism (PAU) of New York City.
The new bridge will connect Indianapolis' medical and education campuses to the 16 Tech Innovation District, neighboring communities and downtown Indianapolis. The project also includes schematic designs for signature entrances and wayfinding throughout the district. In addition to PAU, more than 50% of the design contract is with minority, disadvantaged, or women-owned or led businesses.
Community engagement for the project is expected to begin in early 2021 and will include opportunities for stakeholder input and feedback throughout the nine-month process. The bridge is targeted for completion by the end of 2023. The 16 Tech bridge design and construction is supported through a grant from Lilly Endowment Inc. and funding from the City of Indianapolis.
About American Structurepoint
American Structurepoint began business in Indianapolis in 1966 and has since grown into a respected multidiscipline consulting firm recognized for its experienced professionals, quality work and customer service. Engineering News-Record (ENR) has consistently listed the company as a Top 500 Design firm, and in 2018, American Structurepoint was named Design Firm of the Year by ENR Midwest. After 54 years of steady growth and with a staff of over 500 experienced professionals, American Structurepoint offers complete consulting and comprehensive design services.
About 16 Tech
16 Tech is a $500-million, 50-acre live-work-innovate community focused on bringing together entrepreneurs, academics, startups, corporations and creatives in a single place to spark the exchange of ideas that leads to innovation. The development features a mix of office, creative, residential and retail spaces in addition to green space and trails.