American Structurepoint Designs Aerospace Research Facility for Purdue Research Foundation, Rolls-Royce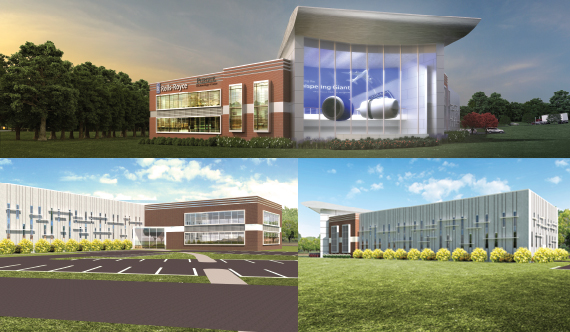 Corporate, Architecture + Interiors
Sep 30, 2015
American Structurepoint, in design collaboration with the Purdue Research Foundation (PRF), is providing architectural, structural and interior design services for the first new facility in the Purdue Research Park Aerospace District. The 50,000 sft facility will house a research and development team for Rolls-Royce and will feature incubator space for other companies interested in aerospace and aviation development.
PRF will own the building, leasing a majority of it to Rolls-Royce. The aviation giant plans to develop and test jet engine components at the facility, collaborate with Purdue researchers through corporate partnerships and recruit future talent of Purdue students and graduates.
American Structurepoint's design solution embraces both the campus feel of the university as well as the high-tech nature of research and design. Through using brick, metal panels and glass, an aesthetic merging these two ideas is born. At the corner of 231 and State Street, this new facility creates a focal point and gateway to the research park. The curved glass wall with winged-shape roof reveals a two-story lobby that will display graphics and jet engines for Rolls-Royce. The corner element allows the aesthetic of the campus and the aesthetic of high-tech R&D to come together harmoniously.
"We designed the atrium of this flagship building as a focal point bringing the high-tech and research worlds together while the entire space fosters collaboration and innovation," said American Structurepoint Education Practice Leader Tim Wise. "Every aspect of the facility results from the hand-in-hand collaboration between our design team and the Purdue Research Foundation, and creates a standard for future economic development in the area."
American Structurepoint will finish its design work in November 2015 with a project completion of October of 2016.
The 980-acre Purdue Research Park Aerospace District took flight in April 2015 to advance public and private aerospace research and development and aviation innovation. It encompasses the Purdue University Airport, Purdue Aviation, Mach 6 Quiet Flow Ludwieg Tube Wind Tunnel and the Maurice J. Zucrow Laboratories.