American Structurepoint Celebrates Dedication of the Lafayette Public Safety Center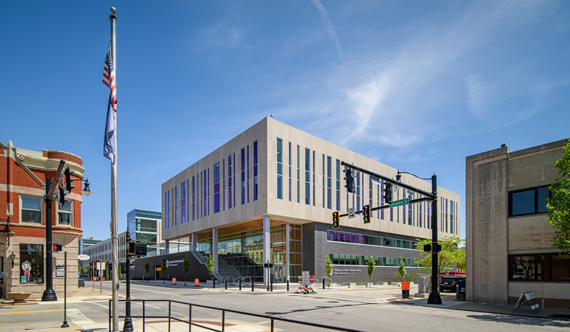 Corporate, Architecture + Interiors, Engineering + Infrastructure
May 25, 2023
American Structurepoint joins with the City of Lafayette in celebrating the May 24 opening of its new $51 million Lafayette Public Safety Center and Parking Garage that features design trends reflecting the concept of community policing.
The 70,000-sft public safety center will serve as a new police facility and community gathering space where officers and the community at large can build better relationships. Specifically designed for public safety, the facility is the first of its kind in the Lafayette Police Department's 156-year history.
This center provides police personnel with ample space and many tools to enhance public safety, build better community relationships, and interact with the community for generations to come," Brandon Hoopingarner, design director and principal
American Structurepoint provided architectural design, structural engineering, civil engineering, and land surveying services for the center. Design team partners include Architects Design Group (ADG), a national firm with specialized expertise in public safety, and MKSK landscape architects who designed the public plaza and greenspace. Additional partners include Applied Engineering Services for mechanical, electrical and plumbing, TLC for cameras and security, and THA Consulting for functional parking. American Structurepoint also appreciates partnering with construction managers Kettlehut Construction and F.A. Wilhelm Construction.
The center incorporates innovative technology such as the Analysis and Response Center (ARC), which serves as the hub of the Lafayette Police Department's special operations division and criminal intelligence. Equipped with real-time access to city-operated security cameras and police body cams, the ARC enables efficient monitoring of criminal activity and major events. The building also features enhanced evidence processing and storage facilities and a dedicated media room for the press.
The design solution addresses the unique challenges of designing a highly secure building while also maintaining a welcoming environment for the public. Security elements include bullet-resistant glazing in key areas, a safe room where victims of crime can seek immediate assistance from police officers, and a victim's advocate space. However, the center's emphasis on community is also evident. A second-floor community room can accommodate up to 100 guests. The community room opens to an outdoor plaza that provides a gathering space with a pergola and seating area for live entertainment and movie screenings. A large and welcoming lobby, connected by a monumental staircase, further enhances public access to various spaces within the building.
The center also invites the public in by incorporating a unique 900-sft micro-retail site that preserves the brick façade of the former Horner Building built on the project site in 1924. Bricks from that building have been installed on the new parking garage to create space for small businesses and entrepreneurs to showcase their services.
The center also has renewable energy sources, such as solar power combined with energy-efficient technologies, to ensure a sustainable and environmentally friendly operation.
"Our design capitalizes on the elements of community policing to provide new and exciting ways for the public to form relationships with the local officers," said Brandon Hoopingarner, American Structurepoint's design director and principal. "This center provides police personnel with ample space and many tools to enhance public safety, build better community relationships, and interact with the community for generations to come."
About American Structurepoint
American Structurepoint is a national architecture and engineering consulting firm headquartered in Indianapolis, Indiana. We define the standard of excellence for people across the world who want help building and bettering their community. American Structurepoint professionals work in 16 Florida, Illinois, Indiana, Kentucky, Ohio, Tennessee, and Texas design centers. Engineering News-Record (ENR) has consistently listed the company as a Top 200 Design Firm. The firm achieved a ranking of 151 on the 2023 list. After more than 56 years of steady growth, American Structurepoint offers complete consulting and comprehensive design services to improve the quality of life for our people and our communities. For more information, visit www.structurepoint.com.