Company Achieves Top Workplace Honors in Indiana Fourth Consecutive Year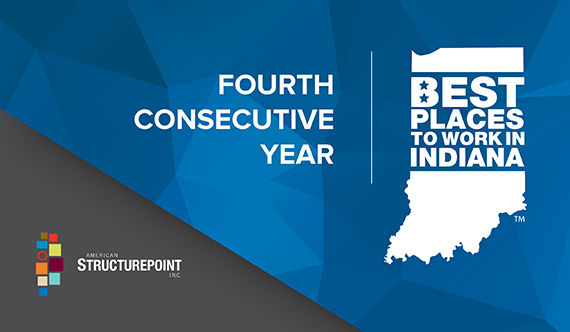 Corporate
Mar 04, 2020
American Structurepoint ranks among one of the 2020 Best Places to Work in Indiana for the fourth consecutive year. The comprehensive consulting and design firm is among 125 Indiana companies making the 2020 list presented by the Indiana Chamber of Commerce.
"We are honored to join other top Hoosier employers achieving this honor," said American Structurepoint President Rick Conner. "We placed a particular emphasis this past year on increasing employee satisfaction and engagement as we strive for a premier workplace environment. Engaged employees deliver strong results for our clients."
The Indianapolis design center moved into a new headquarters in 2019 offering an open, collaborative work environment, natural daylighting, and updated conference rooms equipped with the latest technology tools. Employee perks include an on-site fitness center in Indianapolis, gym reimbursements for all locations, flexible work schedules, and social events such as an annual company picnic, chili cookoff, golf outing and more! American Structurepoint also offers an array of internal committees focused on improving company culture, diversity and inclusion, community service opportunities and overall wellness for employees and their families.
American Structurepoint has earned a spot on the Best Place to Work in Indiana list at least eight times in the list's 15-year history and five times in the last six years. A two-part process involving a comprehensive employee survey and an evaluation of workplace policies, practices, philosophy, systems and demographics determine a company's score among companies of equal size. Final rankings will be revealed at an April 30 awards dinner at the Indiana Convention Center in downtown Indianapolis.
American Structurepoint opened its Indianapolis design center (HQ) in 1966. We also have design centers in Evansville, Fort Wayne, Highland, Jeffersonville, South Bend, Terre Haute and West Lafayette.
Best Companies Group manages the overall registration and survey process in Indiana, analyzes the data and determines the final rankings. The group oversees similar programs in 25 other states.
About American Structurepoint
American Structurepoint began business in Indianapolis in 1966 and has since grown into a respected multidiscipline consulting firm recognized for its experienced professionals, quality work and customer service. Engineering News-Record (ENR) has consistently listed the company as a Top 500 Design firm. ENR Midwest named it the No. 1 Indiana design firm and the No. 13 Top Design Firm in the Midwest. In 2019, the Indianapolis Business Journal named American Structurepoint the No. 1 largest engineering firm, the fifth-largest architecture firm and the ninth-largest environmental firm in the region. After more than 53 years of steady growth and with a staff of over 500 experienced professionals, American Structurepoint offers complete consulting and comprehensive design services.