IU Health Announces New Facility To Be Built By Fall 2024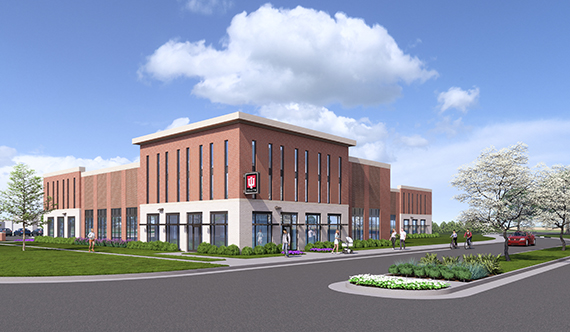 Corporate, Architecture + Interiors, Engineering + Infrastructure
Sep 22, 2023
From the Greenfield Reporter
McCORDSVILLE — Officials of Indiana University Health and the town of McCordsville gathered Wednesday afternoon for the announcement and groundbreaking of their new facility.
The new facility will be located at 5986 Main St., which is just behind the CVS and in front of McCord Square, which is currently under construction.
Doug Puckett, president of IU Health's Indianapolis Suburban Region, welcomed the crowd to the groundbreaking of the facility. Puckett said that, once finished, the facility will be the farthest eastern location.
At roughly 15,000 square feet, the building will feature 25 exam rooms, three procedure rooms and have five physicians, two advanced practice providers specializing in primary care, at least one OB/GYN on-site daily and a cardiologist on a weekly basis to start. Names have yet to be released.
Chad Dilley, chief operating officer at IU Health Saxony Hospital, said the need for the facility is evident because of the growth of the town.
"We're really grateful to be in McCordsville," Dilley said. "This is a really growing, thriving area. All of the northeast suburbs are really taking off and continuing to grow, and we see McCordsville as that next best place to be where growth is going to continue to happen."
Dilley said that adding this facility will meet population demands, and while looking at data it has been noted that a lot of their patients are having to leave the area to get care.
This facility is a part of IU Health's Fishers Community Impact Project, which is a $300 million investment from IU Health to expand services and outpatient access in Fishers and northeast suburbs of Indianapolis, which includes McCordsville.
American Structurepoint designed the shell of the building while Gramman Design designed the interior. Cornerstone will build the facility.
CEO of Cornerstone Tag Birge said the company has so far built eight outpatient facilities with IU Health.
"We'd like to think that every time we [build] one of these facilities, we get better at the patient experience, we get more efficient…," Birge said. "We think this facility will be the most attractive outpatient facility we've ever done."
McCordsville's town council president, Greg Brewer, also attended the groundbreaking and said the population projection in the next 20 years is close to 40,000 residents and the location is ideal with the main street of the future town center just south of the building.
"When people drive down Mt. Comfort Road, having that IU Health symbol as a presence in our town just shows the commitment and investment major corporations and the state of Indiana are making to our town," Brewer said. "They see the growth…"
Dilley said the IU Health facility should accept its first patients in the fall of 2024.
"We look forward to being a longstanding partner with the citizens of McCordsville and surrounding areas," Dilley said. "We know that we deliver great care, and we want to bring that care to this growing and thriving community."