County Roundabout Project Earns National Recognition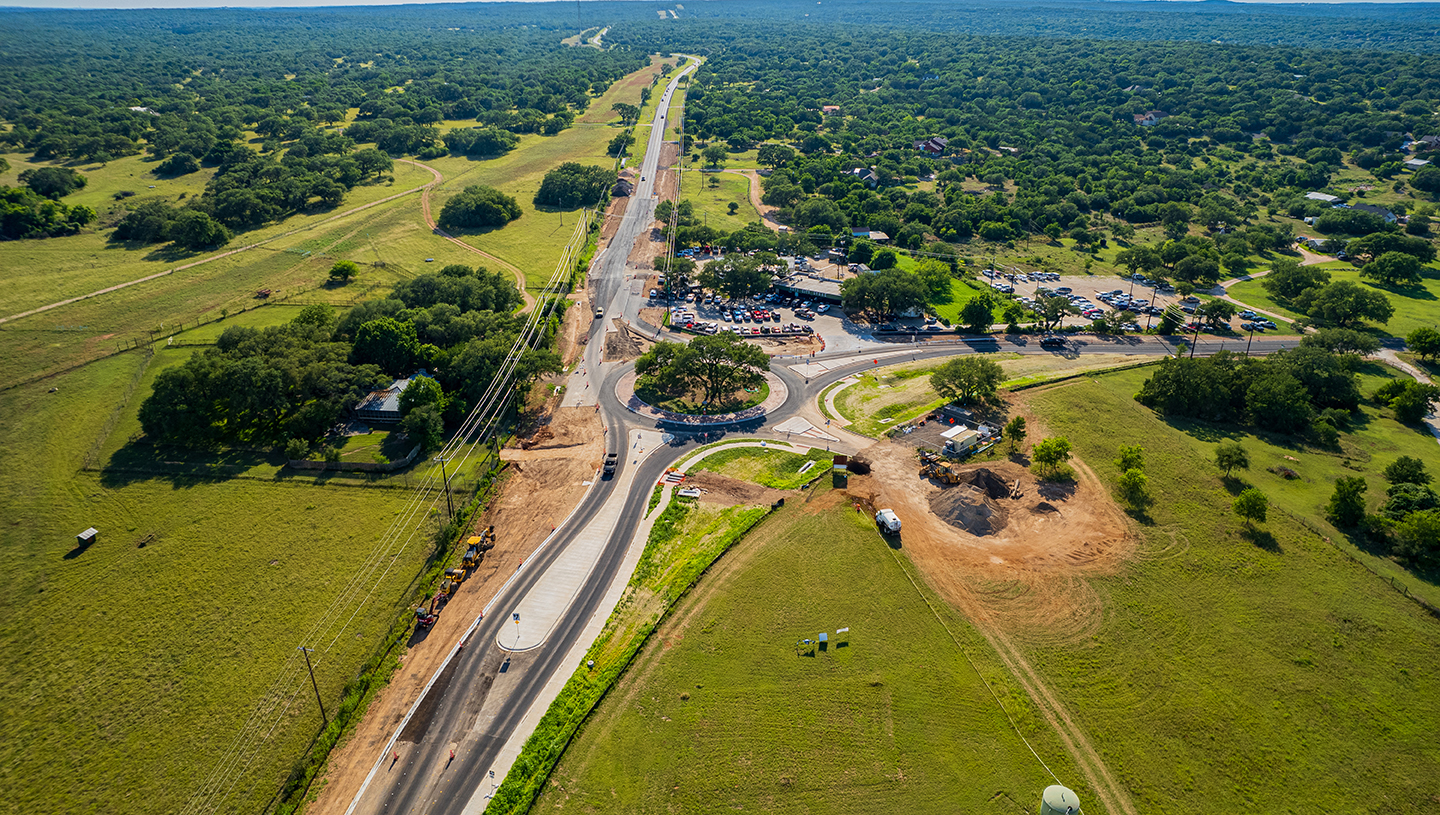 Corporate, Engineering + Infrastructure
Apr 13, 2023
San Marcos, Texas - The Hays County Commissioners and American Structurepoint earned a National Recognition Award from the American Council of Engineering Companies for exceptional engineering excellence for the FM 3237 and FM 150 Roundabout project in the county.
The 2023 ACEC National Engineering Excellence Awards recognized the commissioners and American Structurepoint for the project team's solution to design and build a single-lane roundabout to replace a dangerous "T" intersection.
The project also received a Gold Medal (first-place) Award for engineering excellence from ACEC Texas.
The project's goals were to ensure the safety of county residents and travelers by constructing safe and effective transportation improvements in a growing Central Texas community while honoring the community's character.
By using a roundabout rather than a traditional T-intersection with traffic signals, the improvements provide a more efficient movement of vehicles, a safer intersection, and environmental benefits, according to a press release announcing the awards.
American Structurepoint engineers collaborated with Hays County stakeholders and the Driftwood Historical Conservation Society to design the roundabout with sustainability in mind.
The intersection included the installation of Dark Sky compliant lights with a warmer amber color that reduces the glare and amount of lighting reflecting off the roadway while still meeting the Texas Department of Transportation design standards. This approach preserves the local character of the community, allows more visibility for stargazing, and reduces the impact on the natural habitat for birds and other wildlife. American Structurepoint engineers also protected the environment and community character by working with the County to preserve three historic oak trees located in the roundabout's center island.
The project included drainage improvements to the roadway and adding a new storm sewer system and culverts. Complex issues were addressed such as a buried underground telecommunication line that ultimately saved the county thousands of dollars in relocation costs.
The new roundabout provides better, safer access and improves traffic flow in a growing area of Hays County, the press release stated.
"American Structurepoint is thankful for the opportunity to partner with Hays County to improve safety for drivers and pedestrians while preserving historic assets important to the community," said American Structurepoint president Rick Conner.